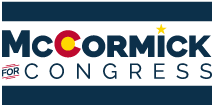 Karen McCormick DVM, local veterinarian, announces candidacy to represent Colorado's 4th Congressional District, out-raises primary opponent
"Congress needs more members pledged to be problem solvers and not part of the problem. I vow to be part of those seeking solutions, to collaborate and move our country forward."
For Immediate Release
July 11, 2017
Longmont, CO – Local successful small business owner and veterinarian Dr. Karen McCormick has announced her candidacy for Colorado's 4th Congressional District in 2018. Karen grew up in a military family with a father who served 30 years in the US Navy. Her father was a fighter pilot, Captain of the aircraft carrier USS America and Inspector General of the Navy. He retired as a Rear Admiral after devoting his entire career in service to our nation. His legacy has instilled in Dr. McCormick a deep sense of duty to country.
"My family's sacrifice for our country built a clear understanding of what it means to be an American and how we have an individual responsibility to stand up for the values that built our democracy," stated Karen McCormick.
Dr. McCormick and her husband, Gregg Perry, a Colorado native, settled in Longmont over 22 years ago. Her husband is also a small business owner who manages an auto repair shop in Longmont. Together they have raised three daughters in Longmont where they all attended public schools. Believing deeply in community ties Karen has been involved with several non-profit agencies serving her neighbors and the community good. Among these non-profits are Intercambio – working as a volunteer English teacher for English language learners, and board member of Project V.E.T.S. – helping to heal the planet one animal at a time.
Dr. McCormick began her career with a Bachelor of Science in Agriculture majoring in Dairy Science- from the University of Florida. She went on to obtain her Doctor of Veterinary Medicine from the same university. With the experience of 33 years of practicing veterinary medicine, building a two person practice into one grossing over 2 million dollars a year with 24 employees, Dr. McCormick knows first-hand about job creation and business development. This field requires constant problem solving skills and the ability to make decisions that benefit a growing business while delivering important and affordable services to the public.
"Karen is a person with a high degree of integrity. Knowing and working with her for over 10 years I can attest personally to her honesty, compassion and her ability to bring people together. She is a strong business woman who would listen to the citizens of this district," said small business owner, Katie Thomas.
Dr. McCormick is running for Congress to give residents of the 4th District a chance to choose better and more honest representation in Washington DC. Whether you farm outside of Trinidad, work in the energy industry in Greeley, run a business in Longmont or Castle Rock, or are doing your best to provide for your family in your own way, Dr. McCormick is interested in listening. She will fight for our Colorado way of life on all levels. She is dedicated to protecting our environment, developing new decent paying jobs, serving our veterans, and protecting the personal freedoms of all Coloradans. She pledges to continue the health care discussion until we have a fair and sustainable system. She is passionate about supporting and strengthening our children's education.
"Having known Karen for over 22 years I can say that she is one of the most diplomatic people I know. She is intelligent and willing to sit down with others of various viewpoints in a civil and respectful way. We need our Representation in Congress to use reason in approaching the challenges of the modern world. I am tired of our present Congressional representatives erecting barriers and resisting progress with undemocratic roadblocks. Karen has my full support to bring problem solving and sensibility to Washington DC,"  said William Benedict a local physician and business owner.
Since filing on May 31, 2017, Karen has raised $20,805.00, over 80% of her contributions come from Colorado and she ended quarter two with $20,736.83 cash on hand. Karen says that this is her time to step up and serve. This is her call to duty for our country. The people of the 4th District in Colorado need a representative that speaks for them.
For more information see website: www.mccormickforcongress.org. 
Election Day is Tuesday, November 6, 2018
##