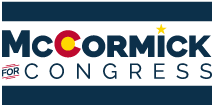 FOR IMMEDIATE RELEASE
October 13, 2017
LONGMONT, CO — Democratic candidate for Colorado's Fourth Congressional District Karen McCormick issued the following statement in response to opponent Rep. Ken Buck's vote against the House measure to provide aid to communities impacted by recent natural disasters:
"Today I'm proud that members of Congress from both sides of the aisle came together to pass legislation that will provide extensive relief for hurricane damage in Puerto Rico and wildfire damage in California with sweeping bipartisan support. Our country functions at its best when Republicans and Democrats work together, and instances like this prove that there is more that unites us as Americans than there is that divides us.
"However, it is incredibly disappointing that Rep. Ken Buck opposed this bipartisan coalition in Congress and voted to deny disaster relief to Americans in dire situations. Even Colorado Republicans Rep. Scott Tipton and Rep. Mike Coffman voted in support of the measure, and it should infuriate Coloradans to see that Rep. Ken Buck refuses to work across the aisle even when his colleagues line up to do so.
"We can hardly call ourselves the United States of America if we don't stand together in times of crisis, and Coloradans deserve a better voice in Congress than someone who would so readily vote to oppose disaster relief for his fellow Americans."