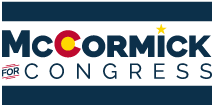 FOR IMMEDIATE RELEASE
October 17, 2017
LONGMONT, CO — Dr. Karen McCormick has emerged as the Democratic frontrunner for the second quarter in a row, as candidates for Colorado's Fourth Congressional District reported their quarterly financial hauls to the Federal Election Commission this week.
"I'm proud of the work that our growing team has accomplished this quarter, and I'm eager to see what we're able to accomplish in the months to come," says McCormick. "Coloradans deserve better than a career politician like Ken Buck, and I have been so grateful for the resounding support we've received as we move forward into 2018. I'll fight for hard-working Coloradans and their families in D.C., and it means the world to me to have support from all over the district in this race."
Having raised $50,835.27 in her first two quarters, McCormick has now raised over three times the amount of her closest Democratic competitor and has developed an insurmountable lead in the race to determine which Democrat will face Ken Buck in November, 2018.