Endorsements

Congressman Ed Perlmutter
"Karen will be a champion for Colorado's seniors, veterans, and working families, and I am proud to endorse her campaign," Ed Perlmutter said. "As a small business owner who grew up in a military family, she is someone who understands public service and understands that we need an economy that works for everyone. The people of the 4th Congressional District will be well-served by Karen. She will put their needs first. I look forward to Karen joining me in Congress."
Betsy Markey


"In these times of political gridlock and division, the people of Colorado's 4th District deserve a leader that is not entangled in corrupt special interests or long-standing political rivalries but instead, they deserve a leader that will work across the aisle for a government that is focused on building a stronger middle class, higher household incomes, affordable higher education and job training programs and a future that includes a safe and secure retirement and Karen McCormick is just that candidate. I am proud to endorse Dr. Karen McCormick for U.S. House of Representatives in Colorado's 4th District," said Betsy Markey.
Betsy Markey has served in government in several capacities. She worked for the U.S. Treasury Department and the U.S. State Department before co-founding the software company Syscom Services. After working for U.S. Senator Ken Salazar, representing his office to the North Central and Eastern Plains of Colorado, Betsy was elected in 2008 to represent Colorado's Fourth Congressional District in U.S. Congress. While in Congress Rep. Markey sat on the Committee on Transportation and Infrastructure and the Committee on Agriculture.
Representative Jonathan Singer
"Karen's compassion, tenacity and collaborative thinking make her exactly the kind of person I want in Congress" says Jonathan Singer. 
Jonathan Singer was a social worker before entering public office, and now serves as the State Representative for Colorado's 11th district. He's spent his career helping Colorado's kids, working families, and seniors. During his time in the state legislature, he's fought to bring good jobs and innovative industries to our state, ensure that Colorado's kids have a chance to get a great education, build bridges between state government and local communities to ensure that disaster victims can get back on their feet, and keep state government open and accessible.
National Organization for Women

The National Organization for Women announced that because of her commitment to issues facing women and their families, they have endorsed Karen McCormick's candidacy for Congress to represent Colorado's 4th Congressional District. "We look forward to working with you to achieve full equality for women and girls" says the Organization's Political Director, Linda Berg.
Founded in 1966, the National Organization for Women is one of the oldest and most active women's advocacy organizations in the United States. The organization continues to work on the front lines to achieve full equality for women in the United States.

American Federation of Labor and Congress of Industrial Organizations (AFL-CIO)
"Working people in Colorado need to know that their elected leadership is working hard for them," said President Josette Jaramillo. "That is why we are thrilled to endorse Karen McCormick because of her demonstrated commitment to our members by expanding collective bargaining rights, raising wages, and making our workplaces safer. We believe that if these candidates win, our state will be more equitable and fair for all families. The Colorado AFL-CIO represents more than 300,000 union members and their families throughout Colorado. The organization is dedicated to organizing working people in our state; to securing and protecting dignity and equality, rights and benefits, and to raising the standard of living and quality of life for all Coloradans.
American Federation of Teachers Colorado

"Karen McCormick will be a champion for Colorado students, for Colorado teachers, and for the communities they serve. We are proud to endorse her and urge our local members to support her," AFT Colorado President Sarah Mesmer said. "At a time when educators are increasingly speaking up at the state level, we need someone like Karen McCormick who will make our voices heard in Congress."
UA Pipefitters Union
"Pipefitters Local 208 is proud to endorse Karen McCormick for Colorado's 4th Congressional District because she will be a champion for working families and a voice for them in Congress. When unions are strong, the middle class is strong, and Karen McCormick has pledged to strengthen our middle class by supporting an economy that works for everyone. We don't need tax cuts for corporations, we need fair wages, access to health care, and a dignified retirement for everyone. These are all things Karen McCormick will fight for and why we support her campaign for Congress" says Gary Arnold, the Business Manager of Pipefitters Local Union 208.

American Postal Workers Union (APWU)
"The APWU-DMAL #229 supports Karen McCormick because we feel she best represents the needs of people of Congressional District 4 and the very real concerns of our Union. We believe she will fight to protect postal workers' jobs from subcontracting and will act to remove the unfair pension burden Congress enacted over a decade ago. We are proud to offer this endorsement" says Paul Lindgren, the Political Director of APWU-DMAL #229.

Communications Workers of America
"On behalf of the Colorado Communications Workers of America State Council, we are excited to announce that we are endorsing your candidacy for Colorado Congressional District 4.With your help, the Communications Workers of America (CWA) seeks to promote workingfamily policies and protect Colorado jobs. We look forward to working together to secure good jobs and fairness for working people in Colorado" says Madison Cassels, President, CWA Colorado Council.

Laborers' International Union of North America
"Local 720 is proud to announce our official endorsement of your campaign for Colorado's 4th Congressional District. Our vision is not only for our strong and proud union Laborers but for all working people of Colorado. We know that when we stand together, we can accomplish many things. Constructing Colorado is the mission we stand by. In order to do this successfully we need to protect collective bargaining rights, promote apprenticeship utilization, create good energy policy, and ensure that construction projects get done on time and with good labor standards through best value contracting. With all of this we can create a successful path to the middle class together. We look forward to your election and your service to our members and the residents of Colorado!"— Anthony Trujillo, Business Manager/Secretary-Treasurer, LIUNA Local 720.

Colorado State Association of Letter Carriers
"On behalf of the 5,200 Letter Carriers in Colorado, the Executive Council of the Colorado State Association of Letter Carriers has endorsed your campaign for the Colorado Congressional District 4. This was an easy selection based on your commitment to Union labor. While this endorsement is based on Letter Carrier issues your desire to be a champion for all the residents of our district regardless of political affiliation, religion, gender, country of origin or economic status is what is missing in the 4th CD. We are looking forward to working with you for all the citizens of Colorado," says Doug Jaynes, President, Colorado State Association of Letter Carriers.
Claire Levy
"Dr. Karen McCormick is a proven problem solver, and knows how to analyze situations and develop innovative solutions. During her long career as a veterinarian, Dr. McCormick touched many lives and demonstrated that one can be a good business person and have a big heart.  Our country faces a wide range of challenging issues, but Karen knows how to earn people's trust and bridge the divide on even the most divisive issues. I know that she'll fight hard for the people in every corner of this district in Congress. I am proud to endorse Dr. Karen McCormick for U.S. House of Representatives in Colorado's 4th District," says Claire Levy.
From her work in Colorado on land use and development, to her years spent fighting for Colorado families in the State Legislature from 2007 to 2013 while representing State House District 13, Claire Levy has spent her life working hard to move Colorado forward. Levy left the State Legislature in 2013 to become the Executive Director for the Colorado Center on Law and Policy, one of Colorado's leading advocacy organizations dedicated to promoting justice, economic security, access to healthcare and sound fiscal policies.
Commissioner Deb Gardner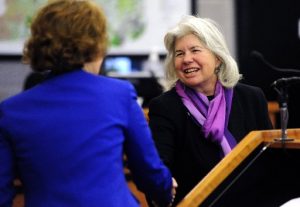 "Dr. Karen McCormick is uniquely qualified to take on special interests in D.C., and I know that she'll fight hard for affordable healthcare, good paying jobs, and an economy that works for all Coloradans — not just those at the top. Karen is collaborative by nature and has a shining optimism that I know will follow her to Congress, and it's because I find these traits to be so few and far between amongst the people representing us in D.C. that I'm so excited to endorse her campaign to represent Colorado's Fourth Congressional District," says Deb Gardner.
Deb Gardner was first elected to represent Longmont and other areas in Colorado's State House District 11 in 2010. She later ran and won a seat on the Boulder County Board of Commissioners, and has served in the role ever since. During her time in office, Gardner has fought to expand access to affordable housing in her county, and has worked to protect public lands and open areas even in the face of rapid population growth.
Gordon Pedrow
"Dr. Karen McCormick is a successful business owner who knows how to tackle tough problems. She has shown that she can bring people together to solve issues and she is ready to take this approach to Washington D.C. I am happy to endorse her to be our Representative for Colorado's 4th Congressional District," says Gordon Pedrow.
Gordon Pedrow served as Longmont City manager for over 18 years, and his tenure led the city through stability and growth during the course of six mayors and 10 different city councils. Pedrow worked hard during his career to create innovative solutions for people experiencing homelessness in Longmont, and fought to protect open spaces and public land in the Longmont area.